Merlino Software Agency Receives Second Clutch Review, Earns Second 5-Star Review
By Romeo Bellon
Last update on Jan 05, 2023 · 2 minutes
---
There are many companies and businesses that utilize the internet to boost their brand and increase their profit. It has been the trend for the last decade, and it doesn't show any slowing down. The number of users online keeps rising each year, and this has been one of the reasons why people are migrating online. The incredible software and new technologies have also improved productivity and business processes.
To help with your transition, Merlino Software Agency is here to help! Our team is made up of incredibly talented and friendly individuals who are software industry specialists. We offer various services such as web and mobile app development, product design, and even DevOps. We've managed to work with a wide range of businesses—from startups to enterprises; you can count on us to deliver incredible results.
As a matter of fact, our team has recently received its second review on Clutch's platform. Clutch is a B2B ratings and reviews platform based in Washington, DC. They evaluate technology service and solutions companies based on the quality of work, thought leadership, and customer feedback.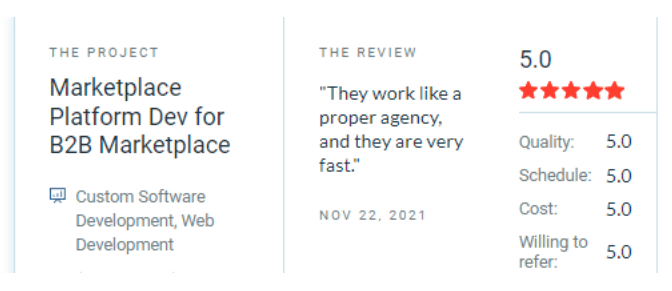 Merlino Software Agency Receives Second Clutch Review
Our second review is about a marketplace platform development project that we handled. A B2B marketplace hired our team to make their vision into reality. The client wanted to have a space for their customers and merchants to connect, see reviews of products and services, and a platform to order. 
We were tasked to create everything from the ground up! The project was carried out in two separate ways; one for the customers and the other for merchants. Apart from this platform, we also assisted in creating a database for the client where you can view the number of sign-ups and other relevant customer data.
Our team used JavaScript, Angular, and Node.js for the project. Each development phase started with a mockup that the client needed to approve before proceeding to the next step. Lastly, we also handled the UI/UX! We've been involved in every aspect of this endeavor.
Here is what the Co-Founder of the B2B marketplace has to say about the results of this collaboration:
"Thanks to the platform, we managed to work with more merchants, and customers were able to order by themselves. In two years' time, we grew 10 times, and I would partly attribute this growth to the technology developed by Merlino Software."
According to Clutch's results, Merlino Agency is first in the list of the Top Malaysia E-Commerce Development Firms, and it is also extremely well placed in the Top 5 Mobile App Development Companies.
A listing service, Top Design Firms also named our company as a leading e-commerce company on their platform. Check their platform today for more excellent information about the B2B industry.
But the story does not end here; the team behind the Merlino Agency tends to constantly provide value to your business by using the most updated standards, techniques, and technologies. If you want to compete with your competitors, and boost your brand and increase your profit, Merlino Agency is the best choice for your business.
Contact us today for more information about our services. We are looking forward to working with you in the future.
What do you think about this article?
Whether it was helpful or not, we would love to hear your thoughts! Please leave a comment below.